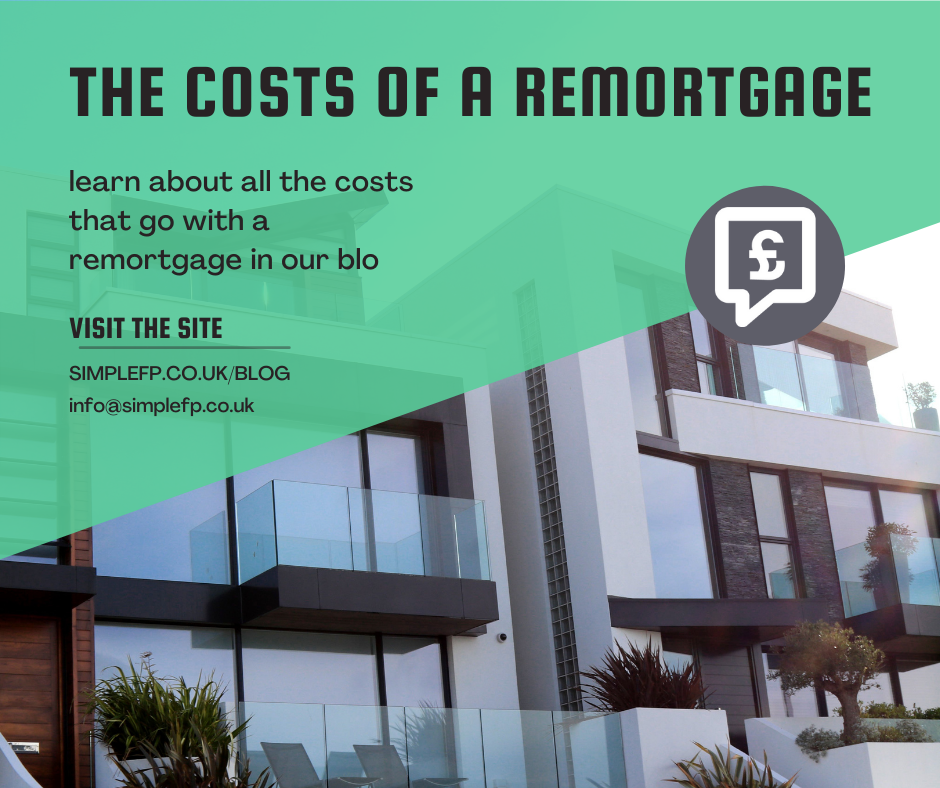 The main reason that people remortgage is to save money. They are drawn in by the extremely low headline rates, but what they don't think of is the hidden costs.
There are 4 main different types of fees involved in remortgaging:
1 Product / Arrangement Fee
2 Broker Fee
3 Solicitors Fee
4 Valuation Fees
Product Fee
Lenders who offer the lowest rates will usually charge you for the privilege of securing such a good rate in the form of a product or arrangement fee. Essentially, there is no difference between a product fee or an arrangement – this is just different terminology used for the fee.
Whilst not all rates come with a product/arrangement fee, the fees will typically range from £495 to £995 or more.
So the issue is, that people are drawn in by the headline rate and then are asked for almost £1,000 to secure this rate, making the switch to that bank more costly than it should be.
Usually, what you will find is that by taking a slightly higher rate with no arrangement fee, you will be able to avoid the large up front costs and save money overall over the term of your fixed rate period.
For example if we look at borrowing £120,000 on a property value of £150,000 (80% loan) over a term of 25 years.
If you were to opt for a 2 year fixed rate of 1.62%, costing around £487 per month vs. a 2 year fixed rate of 1.99%, costing around £508 per month.
The first deal has a £995 arrangement fee, and will cost you £12,801 over the 2 years. If you opted for the higher rate, which has no large arrangement fee, you will spend £12,202 over the 2 years.
As you can see, this demonstrates that you can save money by avoiding high arrangement/product fees.
Generally speaking, a remortgage should be much cheaper than the purchase of a property, especially when you avoid large set-up costs.
Broker Fee
A broker fee is applied if you use a mortgage broker ( Like us ) to arrange your mortgage. There is many reasons why you would use a mortgage broker. Firstly, you will be getting advice on the mortgage you take, which is so important especially if you are not completing a straight forward transaction. Broker are able to confirm which deal is best suited to you and is most cost-effective. Some mortgage brokers have access to rates that are exclusive and not on the high street as well, so you are able to take advantage of these. They also do all of the paperwork for you and keep you informed and updated through out the process, and also ensure that your solicitor is keeping on top of your case.
Broker fees can range quite dramatically, from being completely free to charging up to 1% of the mortgage balance. I would use a "free" broker with caution though, as they tend to have a high volume of cases and sometimes do not give you the effort and time that you would expect when paying for the service.
Solicitors Fees
Not only do you need a solicitor when purchasing a property, but you will also need a solicitor to conclude your missives of your re-mortgage. Some lenders offer free legal work with their product. Whilst this can be cost-effective for you, I would say that again, you get what you pay for. Legal firms who are tasked with taking on the large volume of remortgage business often tend to be slower and not as efficient as using a more reputable solicitor.
If a product doesn't come with free legal then the cost of a solicitor can range from £600 to £1500 depending on what solicitor you use. Please note that the solicitor has to be on the lenders panel for you to be able to use them, but your broker will be able to confirm this for you. Brokers sometimes work in partnerships with legal firms and can often get you discounted legal work. There are also cash-back alternatives that you can take from lender deals instead of using their free legal service, and this will help towards the cost of using your nominated solicitor.
Valuation fees
This is for the lender to obtain confirmation of the value of your property. They will send an unbiased professional to give them an exact price on what your property is worth.
Most lenders will give you this for free as a part of your remortgage package now, however some will still charge you for carrying out the survey, and this will typically be a couple hundred pounds.
For your valuation sometimes a surveyor will come out and will walk round your property other times they might do a more remote assessment of the property without needing interior access.
If you use a broker, they should give you the most cost-effective option which should be all encompassing in terms of all of the possible costs that have been mentioned above. If you are doing your own research, just be mindful of the costs that may be involved.
Get in touch with Simple Financial Planning
Get in touch with us today to help you with your financial needs, our aim is to make it simple for you!